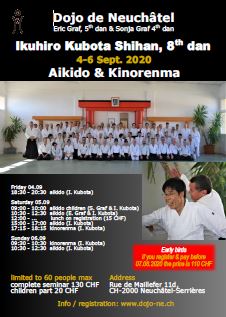 Spezial Seminar mit Ikuhiro Kubota Shihan, 2-10. September
From 2 to 10 Septmeber 2020, organized by Eric Graf, 5th dan and Sonja Graf 4th dan.
Verpassen Sie nicht dieses aussergewöhnliche Ereignis!
Spezial Trainings, Dojos Besuche, Wochenende Seminar.
Es wird auch einen Kinder-Teil geben.
Wir freuen uns, den 2. Besuch von Meister Ikuhiro Kubota, Shihan, 8. Dan des Hombu Dojo, bekannt zu geben. Er ist einer der wenigen grossen Meister, die noch am Leben sind und die bei O'Sensei trainiert haben. Er heilte sich zweimal in seinem Leben durch Meditation und energetische Übungen von einer Krebserkrankung für welche ihn die klassische Medizin bereits zum Tode verurteilt hatte.
Der Wochenende Seminar findet in unserem Dojo statt und ist auf 60 Personen begrenzt. Anmeldungen werden in der Reihenfolge des Eingangs der Zahlungen bearbeitet.