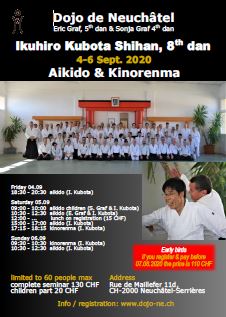 Stage spécial avec Ikuhiro Kubota Shihan, 2-10 septembre
From 2 to 10 Septmeber 2020, organized by Eric Graf, 5th dan and Sonja Graf 4th dan.
Ne ratez pas cet événement exceptionnel!
Entraînements spéciaux, visites de Dojos et stages de weekend limité à 60 personnes.
Il y aura aussi une partie pour les enfants.
Nous sommes heureux de vous annoncer la deuxième visite de Maître Ikuhiro Kubota, Shihan, 8e Dan du Hombu Dojo. Il est un des rares grands maîtres encore vivant à s'être entraîné avec O'Sensei. Il s'est auto-guéri deux fois dans sa vie, par la méditation et des exercices énergétiques, de cancers pour lesquels la médecine le condamnait à mort. Avec son immense expérience et ses 76 ans, c'est une personne très conviviale, souriante, modeste et d'une vitalité quasi surnaturelle.
Le stage du weekend a lieu dans notre Dojo et est limité à 60 personnes.