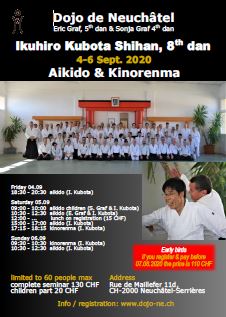 International seminar in Neuchâtel: Aikido & Kinorenma with Ikuhiro Kubota Sensei, 8th dan
From 2 to 10 Septmeber 2020, organized by Eric Graf, 5th dan and Sonja Graf 4th dan.
Do not miss this exceptionnal event!
Special trainings, Dojo visits and special weekend seminar.
There will also be a kids part.
We are pleased to announce the second visit of Master Ikuhiro Kubota, Shihan, 8th Dan of Hombu Dojo. He is one of the few great masters still alive to have trained with O'Sensei. He healed himself twice in his life, through meditation and energetic exercises, from cancers for which medicine condemned him to death. With his immense experience and his 76 years, he is a very friendly person, smiling, modest and almost of supernatural vitality.
The weekend seminar takes place in our Dojo and is limited to 60 people: